In this article, we will continue pushing the same two ideas – bigger is always better and measure once, measure again, and yeah, definitely measure a third time. Before finalizing the design for your post-frame project, you need to make sure you can get the equipment in and out with ease.
Word of Caution: Putting thoughtful consideration into this decision will save you time and money in the long run. If you originally selected a 12' x 12' overhead door as part of your pole barn design, then we start framing your project, and you decide you need a 14' x 14' overhead door – then your Project Manager will need to submit a change order which will come with an extra cost to you.
This article will provide guidelines on how big of a garage door you need for the specific vehicles, farm equipment, trailers, and more you plan to store inside your pole barn.  
The categories we will be reviewing are the following:

1) Residential Building
Typically, there is a set standard for your basic garage door that you can order from any local home improvement store. However, if you own a pick-up truck, you should consider going bigger. Trucks come in all different shapes and sizes, plus there's always that "trade-in" possibility in the future, so if you go with a bigger door now, you will be grateful.
Recommendations for your Standard Residential Vehicles: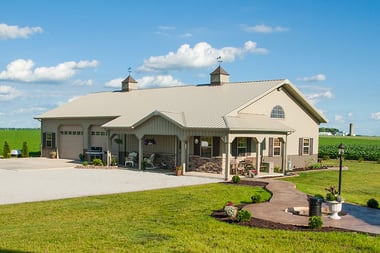 Single Sedan:

 9' wide by 7' tall door

Two-Car Garage:

 Either two 9' wide by 7' tall doors or one 18' wide by 7' tall door

Pick-Up Truck: 

10' wide by 8' tall door can handle up to a 3500 dually truck
2) Hobby Shop / Large Garage
Do you love to go on long-weekend trips with the family in your motorhome? Or maybe you spend your Friday nights fishing with your buddies. Whatever your passion is, you have to make sure that you can maneuver your RV or boat out of your pole barn with ease to ensure your weekend is off to a great start.
Recommendations for Garage Doors to your Hobby Shop and/or Large Garage:
RV/Motorhome:  14' wide by 14' tall door – The maximum legal width allowed for a motorhome is 9' wide. So giving yourself an extra 2.5' on either side will make storing your vehicle much easier.
Boat:  We need to know how big your boat is, but we also need to know how big the trailer is that you use to tow your boat. The combination of the width of your trailer plus the height of your trailer and boat height will help us determine your door size. Typically, we can say you're safe with a 12' wide by 14' tall door.
Riding Lawn Mower, 4-Wheeler, or Side-by-Side:  For your go-to small riding lawn mower or a fun ATV ride around the property, an 8' wide x 8' tall or a 6' wide x 6' tall would be just fine.
Dump Truck: To go down the highway, all trucks need to be able to clear a 14' height; therefore, if you install a 14' wide by 14' tall door, you should be good to go.
3) Equine Barn
Whether your equine barn is just for the love of horses or it's how you make your living, the one thing that ties them together is that horses are BIG. They require a lot of space, and you most likely have a horse trailer to tow them around. Here is some advice on what to consider:
Recommended Door Size for your Equine Barn:
Horse Walk Door: Not only will your horse need easy access to the outdoors, but maybe you want to mount your horse inside the barn before going for a ride. Ensuring the door is tall enough for the horse, plus you on the back will make this a better and safer experience. We recommend a minimum of 12' wide by 12' tall.


Horse Trailer:  A standard horse trailer could easily fit in a 10' wide door. However, some trailers can almost look like a camper with living quarters in the front. 

These enhanced trailers will often include a heater/air conditioner on the top, resulting in a taller trailer.

Installing a 14' wide by 14' tall will ensure that you will have plenty of space to store your trailer inside the barn. Or bring the trailer partially inside for easy loading and unloading during inclement weather.
4) Agriculture Farm Building 
Your farm is your livelihood for most, so having a building that makes your life easier is the goal. Part of that easier life includes moving equipment in and out of the building with ease. Below are some guidelines to help you determine what size garage door you should get.
Recommendations for Garage Doors for your Farm Building: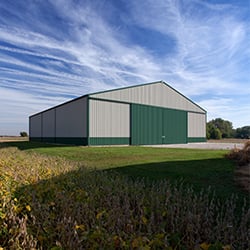 Large Tractor:

A tractor-sized door will often

come down to what is being pulled behind it. The tractor is not usually the widest thing going through a farm door. These big doors are all about how the equipment will come in and out and how it will be parked. 
On average, these doors fall around 24′ wide by 14' tall and can go up to 32' wide by 18' tall. However, it all depends, and again we recommend going bigger now to avoid headaches in the future.
Airplane / Crop Duster: These are normally much wider than tall. These can tend to get into Hydraulic or Bi-Fold type doors vs. overhead doors because they can get wide. Therefore, we would need more detailed information before making a recommendation.

When it comes to the agriculture world, size is important, but so is the type of door! We recommend reading Which Type of Door is Best for Your Pole Barn to learn more!
It Always Helps to Plan Ahead
As we said at the beginning of this article, bigger is always better, and be 1000% confident in your measurements. Because once the contract is signed and framing has started, there is no going back without a delay in the project and an extra cost to you, which neither of us wants.
Think to the future about the truck you've always wanted or that ag equipment that would make your life so much easier, and then design your building so those dreams have a better chance of becoming a reality. As that famous line goes, "if you build it, they will come."
A Project Sales Consultant would love to discuss your specific needs, offer feedback, and move you down the building process journey.