Born Samuel Langhorne Clemens, the American writer, humorist, publisher, and lecturer best known by his pen name — Mark Twain — is widely considered one of the greatest American writers of all time.
Perhaps you've read The Adventures of Tom Sawyer or the Adventures of Huckleberry Finn in your youth, or perhaps you're just a big fan of Twain's humor (after all, he was lauded as the "greatest humorist the United States has produced").
For passionate 'Twainiacs,' as Mark Twain's fans are sometimes called, the writer's houses are almost sacred places.
But there might be some of you out there who aren't all that familiar with Mark Twain's homes over the years, and that's a shame because some of these properties are pretty fascinating.
That's exactly why we're here, to shed some light on Mark Twain's houses, and learn about what makes them special even to this day. Keep reading to catch a glimpse of what it was like to live in Mark Twain's shoes. 
1. The Mark Twain Boyhood Home & Museum | Hannibal, Missouri
The modest house with the white picket fence at 120 N. Main Street in Hannibal, Missouri, was Mark Twain's first real home.
The writer, born Samuel Langhorne Clemens, spent the early years of his life here, growing up with his parents and siblings.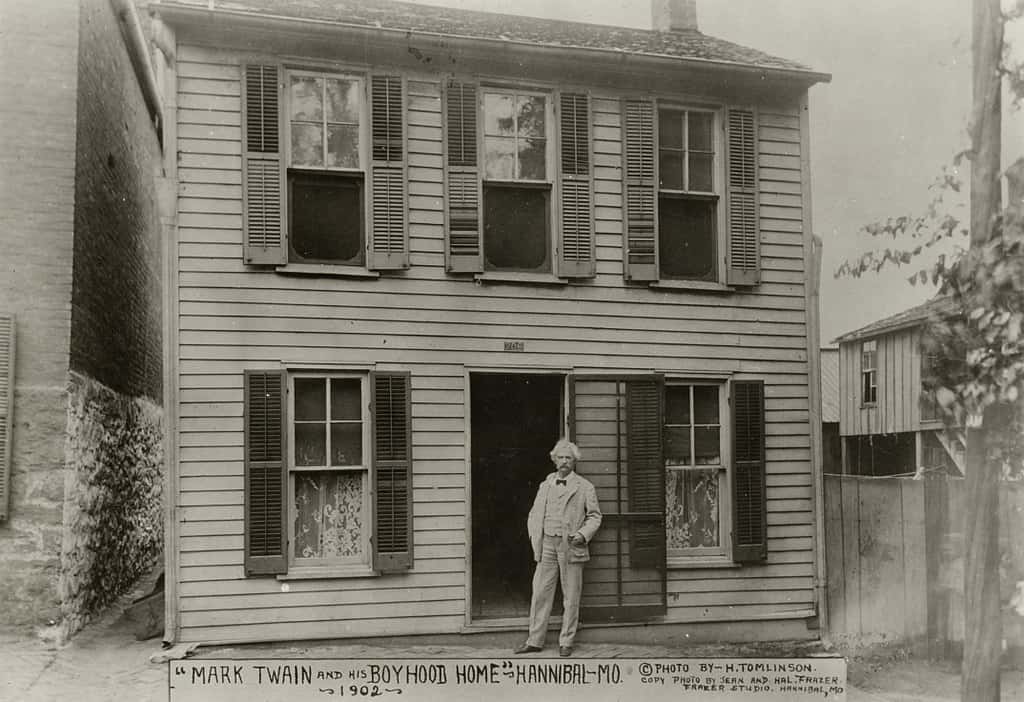 His family moved to Hannibal when Twain was four years old, and the family home and its surroundings became sources of inspiration for his later works.
In fact, Hannibal inspired the fictional town of St. Petersburg in The Adventures of Tom Sawyer and the Adventures of Huckleberry Finn. 
When Twain was only 11 years old, his father passed away from pneumonia, and just one year later, Twain quit school to become a printer's apprentice.
Soon enough, he was working as a typesetter for the Hannibal Journal, and he ended up moving around the country when he was just 18. However, the memories of his childhood home followed and inspired him throughout his life. 
Twain's childhood home opened as a public museum in 1912, and it was designated a National Historic Landmark in 1962.
It's now part of the Mark Twain Historic District, which consists of 20 buildings that have a connection to Twain's upbringing in Hannibal.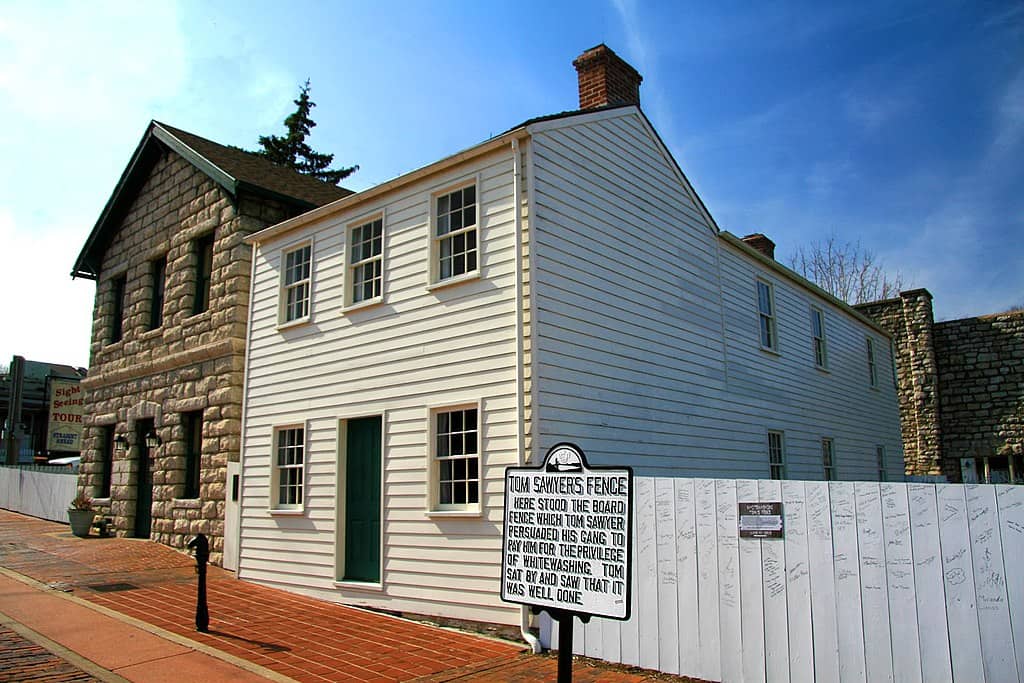 The Boyhood Home & Museum features original Twain memorabilia, a gift shop, several first editions of Twain's work, and many personal items.
It also regularly hosts regional art, touring exhibits, and cultural events, including writer workshops, scholarly conferences, and events dedicated to children and young authors. 
2. The Mark Twain House and Museum | Hartford, Connecticut
The American High Gothic property at 351 Farmington Avenue in Hartford, Connecticut, was Mark Twain's home from 1874 until 1891.
The home was designed by Edward Tuckerman Potter, and was described by a Twain biographer as "part steamboat, part medieval fortress, and part cuckoo clock." 
Twain and his family created many wonderful memories at their beloved Hartford home, and the idyllic family life inspired the writer tremendously.
He wrote some of his most iconic works here, including The Adventures of Tom Sawyer, Adventures of Huckleberry Finn, Life on the Mississippi, and The Prince and the Pauper.
Twain himself wrote about his Hartford home, saying "to us, our house had a heart, and a soul, and eyes to see us with; and approvals and solicitudes and deep sympathies; it was of us, and we were in its confidence and lived in its grace and in the peace of its benediction."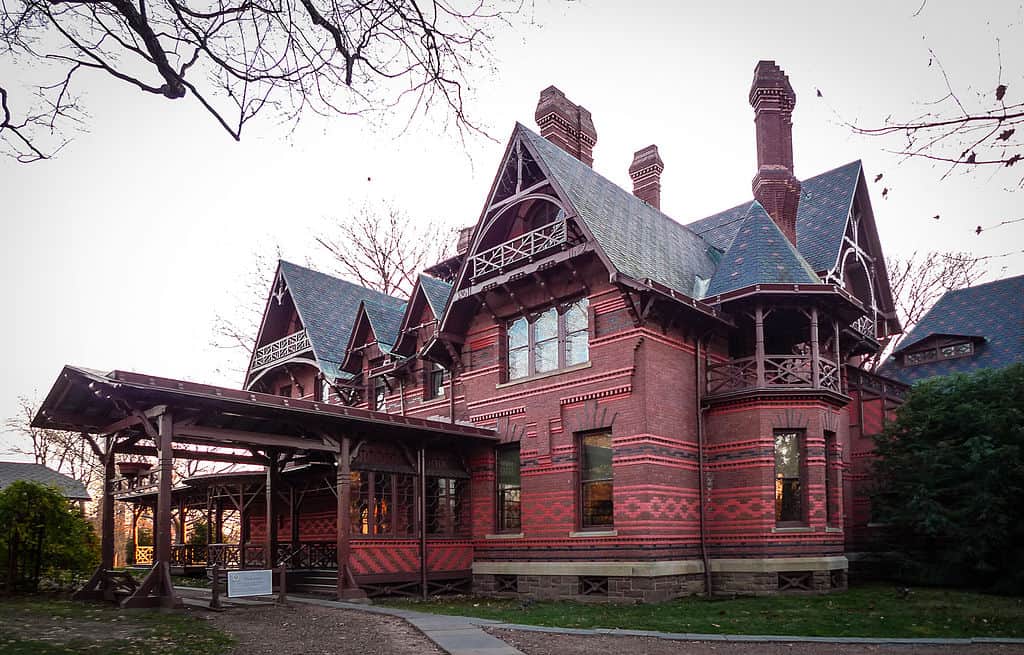 The Hartford home, now known as the Mark Twain House and Museum, spans 11,500 square feet and includes 25 rooms across three floors.
The top floor of the Twain home featured a billiards room, as well as the author's private study, where he wrote, often late into the night, and where he entertained guests with cigars and whiskey. There was also a children's playroom, a classroom, and a nursery. 
The Twains reportedly spent $40,000 to $45,000 to build their home from scratch, which was quite a large amount at the time.
Because of this expenditure, once they moved into the house, the Twains opted to keep the decor simple and classic. They did, however, contract Louis C. Tiffany & Co. in 1881, to decorate the walls and public areas of their new home.
Louis was the son of the founder of Tiffany & Co., the iconic jewelry brand, and the founder and creator of Tiffany Lamps, the iconic stained glass lamps.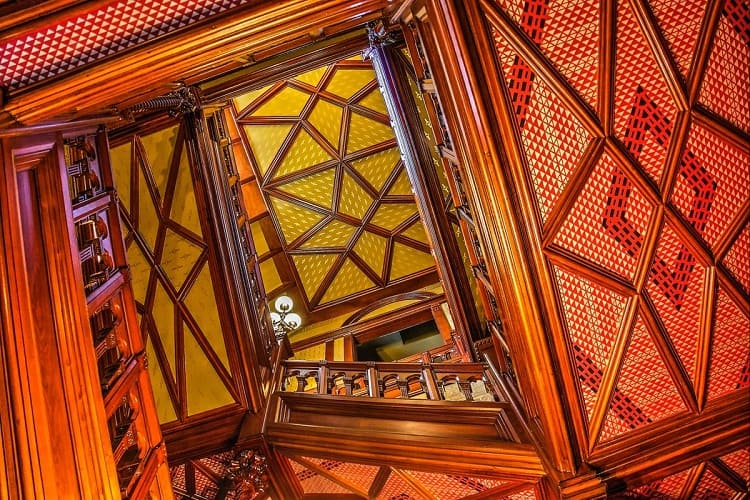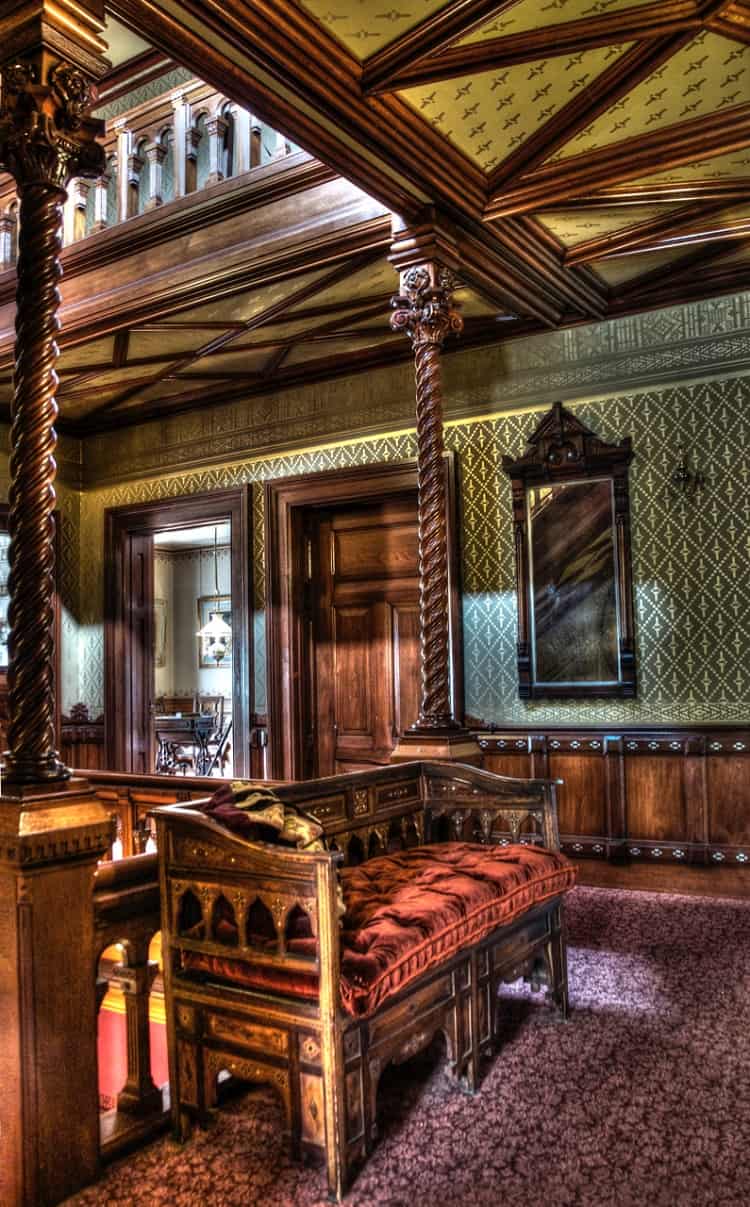 Unfortunately, the Twains soon ran into financial problems and were forced to move to Europe in 1891, while their daughters Susy and Jean stayed behind at the family home in Hartford.
However, tragedy struck just five years later, when Susy died at home of spinal meningitis, while her parents were still in Europe. The Twains could not bear to live in the Hartford home after this, and eventually sold the house in 1903. 
After functioning as a school, an apartment property, and a public library, the Hartford home was placed in the care of the Mark Twain Memorial non-profit group in 1929, which saved the property from imminent demolition.
In fact, Katherine Seymour Day, the grand-niece of Harriet Beecher Stowe (the author of Uncle Tom's Cabin), played a big part in saving the Twain house from demolition. 
The property was declared a National Historic Landmark in 1962, and opened as a house museum in 1974, after extensive renovations and restorations.
In 2003, the Mark Twain House and Museum added a multimillion-dollar, LEED-certified visitor center that also featured a new museum dedicated to Twain.
The house and museum were visited, over the years, by endless celebrities and artists, including Stephen King and John Grisham. It was even named one of the Ten Best Historic Homes in the world by National Geographic in 2012. 
3. 'The House of Death' | Greenwich Village, NYC
The next house on the list is a far cry from the idyllic Connecticut country life of Hartford.
Mark Twain lived at 14 West 10th Street in New York City's Greenwich Village for a little over 12 months — but his presence is still felt there. In fact, many presences are felt there. 
The brownstone has a dark, dark past. It used to house high-profile NYC aristocrats, including the wife of James Boorman Johnson, the founder of the Metropolitan Underground Railroad.
It's now known 'affectionately' as The House of Death. That's because, since its construction in the 1850s, roughly 22 people have died in the home, some in very strange circumstances.
Strange happenings and ghost sightings are commonplace at the Greenwich Village home, and one of the ghosts said to haunt the grounds is that of Mark Twain. 
Twain lived at the house between 1900 and 1901, during one of the rougher times of his life. He was battling bankruptcy and fighting depression, but continued to work and churn out classic works of literature.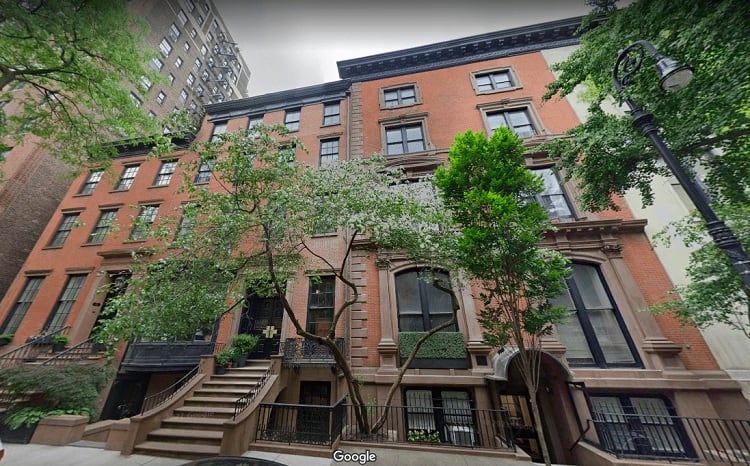 Funnily enough, Twain didn't really believe in ghosts, but even he reportedly felt something was off with the house on West 10th Street.
He wrote about witnessing a large piece of wood kindling just fly into the air, and thinking that it was the work of a rat, shot it with his gun.
When the piece of wood fell to the ground, it was surrounded by a few drops of blood. Not creepy at all. 
Sightings of the author began around the 1930s when residents started seeing the author walk around the property in a white suit, saying 'My name is Clemens and I has a problem here I gotta settle.' Again, not creepy at all. But it gets worse. 
The property was converted into a 10-unit multifamily building a few years after the first Twain sighting. Actress Jan Bryant Bartell moved into the top floor with her husband in 1957 and instantly felt that something was very wrong with the place. 
However, the worst of it happened in November 1987, when former attorney Joel Steinberg beat his partner's six-year-old child to death, which led to his conviction for first-degree manslaughter.
Steinberg was living at 14 West 10th Street with Hedda Nussbaum, who worked as a children's books editor at Random House.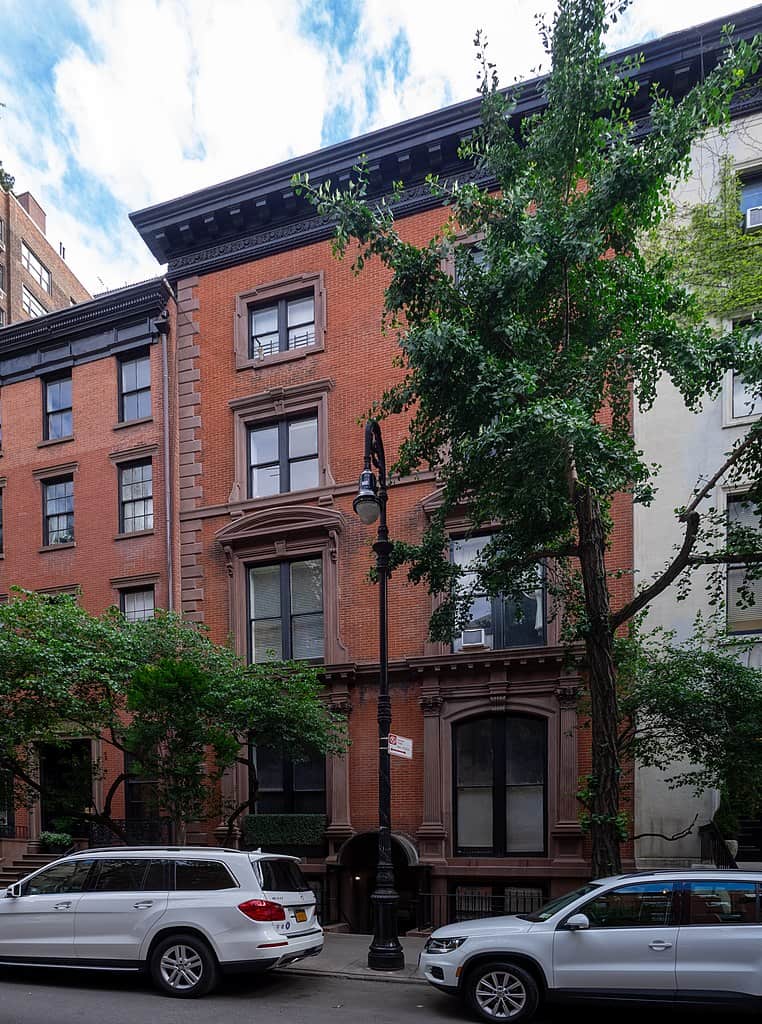 The case garnered international media attention, because of the violent nature of the crime and the fact that both Steinberg and Nussbaum were under the influence of cocaine at the time.
Nussbaum also waited for hours to call an ambulance for her adoptive daughter, who was bleeding and unconscious after being beaten by Steinberg. Could the ghosts and dark forces roaming the hallways at 14 West 10th Street have had anything to do with it? Let's not find out. 
4. Stormfield | Redding, Connecticut
Back to less terrifying and creepy homes, we return to Connecticut to visit the final home of Mark Twain.
The author built himself a new home in Redding, Connecticut, in 1908, four years after his wife Olivia's death, and named it after his short story, Captain Stormfield's Visit to Heaven. 
Twain worked with architect John Mead Howells of Howells & Stokes to design a home in the style of a Tuscan villa.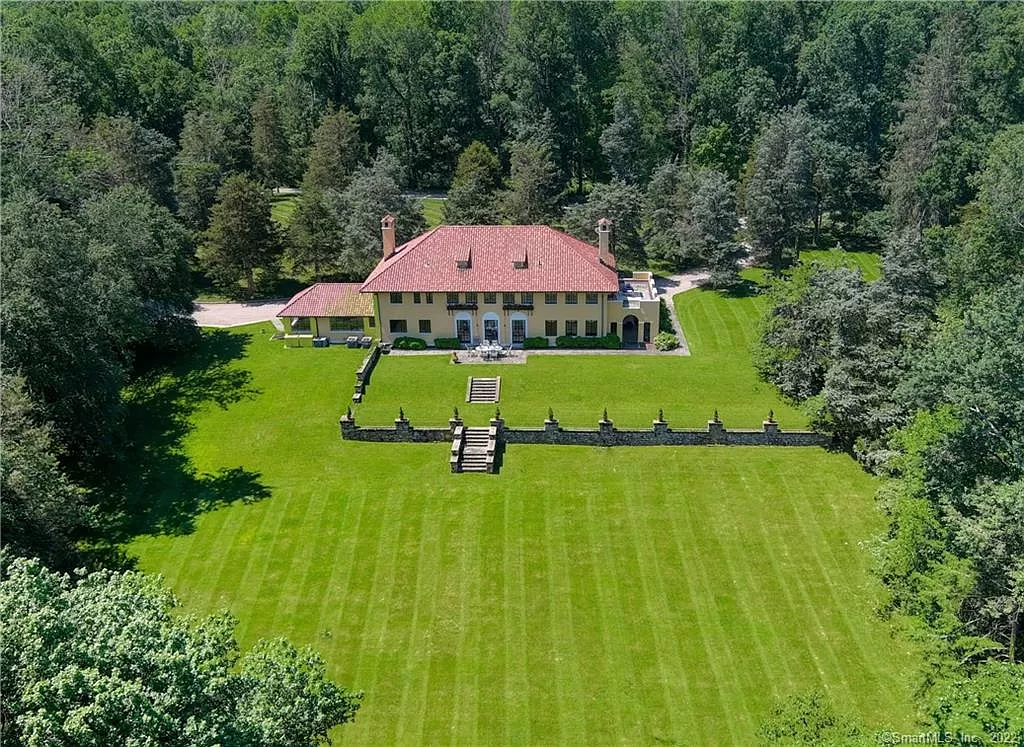 Completed in 1908, after two years of construction, Stormfield featured a gray stucco finish and a green roof.
Inside, there was a spacious dining room, a drawing room, and a billiards room; outside, there were garden terraces, fountains, and ample lush vegetation. 
Mark Twain thoroughly enjoyed his time at Stormfield and often entertained guests in his billiards room and outdoor gardens, including Thomas Edison and Helen Keller. Edison even recorded footage of Twain roaming the grounds at Stormfield.
Unfortunately, the writer did not get to enjoy his new home for very long, as he died of a heart attack in 1910, at the age of 74.
Sadly, a violent fire destroyed Stormfield in 1923, but a similar mansion was built in its stead, inspired by the original property.
However, the new Stormfield did not become a museum, but served, and continues to serve, as a private property. In fact, it's currently available for sale. 
The 'new' Stormfield was completed in 1925 at 30 Mark Twain Lane and incorporates 6,300 square feet of living space on a 29-acre plot.
It features four bedrooms, five bathrooms, three fireplaces, a detached pool/carriage house, and plenty of outdoor space featuring gardens, terraces, stone walls, and fountains. All of this just 58 miles from Midtown Manhattan. 
Stormfield has been on and off the market since it was first listed in 2014 for $4 million. The previous owners paid $3.45 million for the property in 2003.
Now, Mark Twain's final home is on the market again, listed for $3.9 million — the third-highest price for a family home in Redding, according to Realtor.com.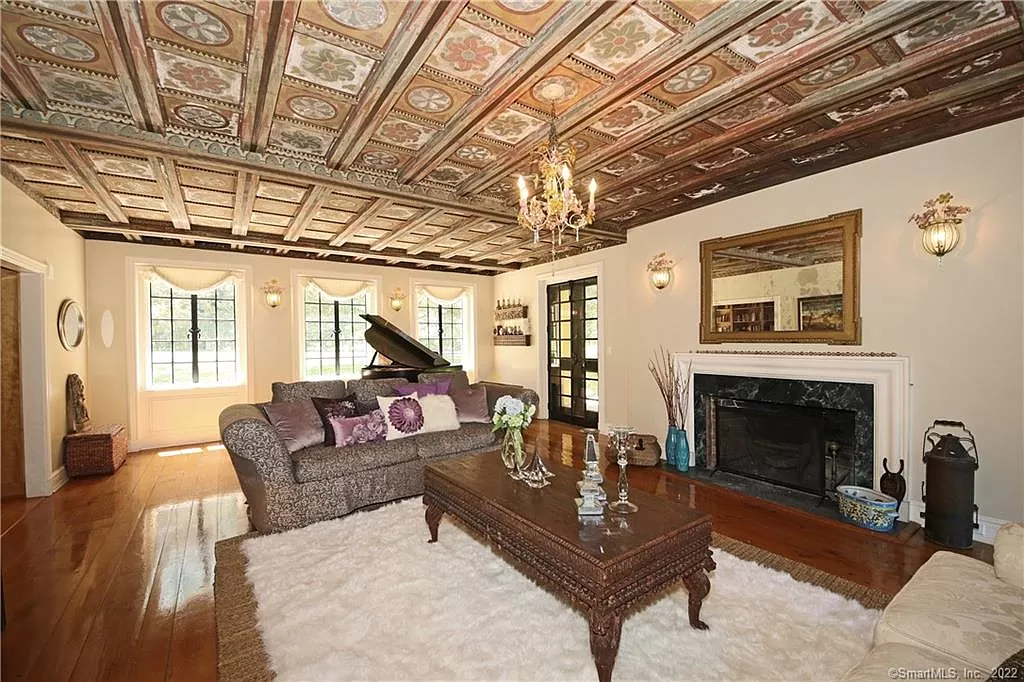 If you're interested, the listing is held by Laura Freed Ancona with William Pitt Sotheby's International Realty.
More stories you might like
Ernest Hemingway's Iconic House in Key West Stands Tall and Mighty After 170 Hurricane Seasons
Tom Clancy's Ritz-Carlton Penthouse Goes Up for Auction
Step Inside the Modest House Where Frank Herbert Wrote 'Dune'
Menabilly, the Real-Life Inspiration for the Manderley House in 'Rebecca'