This week, we interviewed Stephen Baker from Zego.
Let's get to it!
Who are you and what do you do?
My name is Stephen Baker and I'm the President and General Manager of Zego, a property technology company that helps operators modernize the resident experience to boost retention and improve efficiency. In my role as President and General Manager, I manage Zego's growing resident experience management business, utilized by 12M+ residential units, more than 6,000 property clients, and over 30 partners.
What problem does your product/service solve?
Zego's mobile-first engagement platform for the residential real estate industry unifies the most critical resident touch-points into one app. Everything seamlessly integrates into the property manager's back-end system, from payments and utilities to communications and smart devices. Since its inception in 2003, Zego has grown from a payments provider to a comprehensive resident experience management platform, and we have so much more in the works.
What are you most excited about right now?
The world is changing fast and the real estate industry is working hard to keep up. While COVID has certainly catalyzed some of that change in the past year and a half, other important factors are at hand, including shifting demographics and staffing shortages. Combine those factors with heightened consideration for staff and resident safety, online community reputation and resident retention, and we are in an environment where resident retention is critically important. It's an incredibly exciting time to be a part of the solution helping meet these unique challenges, and at the same time shape the future — not only of property management, but of the larger residential real estate industry.
What's next for you?
After almost three years as Zego's Chief Product Officer I'm incredibly excited for the opportunity to stand at the helm as President and General Manager, and guide the continued expansion of Zego's resident experience management platform. Our team continues to find new and innovative ways to truly elevate the modern resident experience, and in doing so, not only affect real change for the residential real estate industry, but also solidify Zego's growing PropTech leadership.
What's a cause you're passionate about and why?
My wife, Jennifer, and I are particularly passionate about supporting The Sandy Hook Promise, which aims to protect children from gun violence, as we have two small children of our own and our hearts break whenever we think about the trauma that so many families have gone through as a result of this issue. We also support both Misericordia and Lambs Farm, which are two local organizations in Chicago, where we live, that care for the mentally disabled.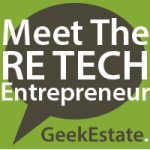 Thanks to Stephen for sharing his story. If you'd like to connect, find him on LinkedIn find him on LinkedIn here.
We're constantly looking for great real estate tech entrepreneurs to feature. If that's you, please read this post — then drop us a line (Community @ geekestate dot com).